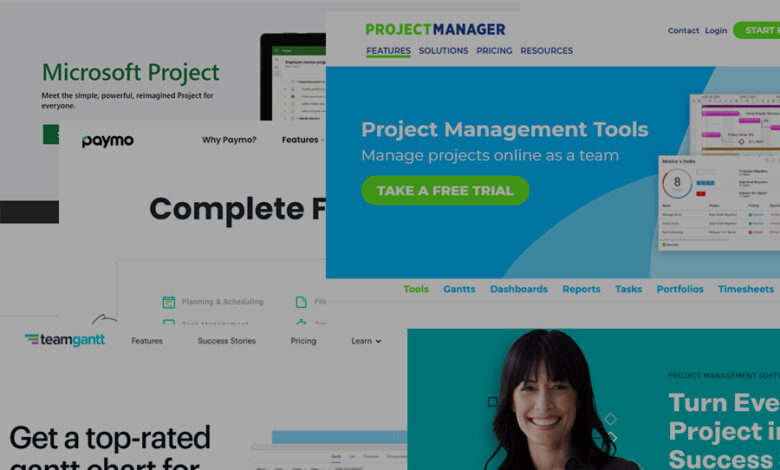 5 CPM Software Applications for Scheduling
Critical Path Method (CPM) is a useful approach to project management but manually scheduling and keeping track of a critical path can be time-consuming. But today, you don't have to do critical path analysis by hand.
CPM software can make your life as a project manager a lot easier. In this article, we'll look at five of the best CPM software applications you can count on to bring your project to completion.
Project Manager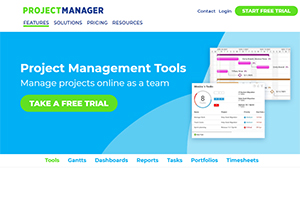 ProjectManager is an advanced project management tool available as a Software-as-a-Service that includes a wide range of features including Critical Path Method tools. You can use it to create critical path network diagrams and schedule and keep track of tasks.
Similar to other cloud services, it's available on a subscription basis with plans for Personal, Team, and Business use. Each plan has a user cap, and you can pay an additional monthly subscription for each user you want to add. This makes it a scalable solution.
A complete software management suite, ProjectManager is user-friendly and can be readily adopted by new as well as expert project managers. This popular project management tool is used by teams from NASA, Volvo, Ralph Lauren, and the United States Post Office.
Mavenlink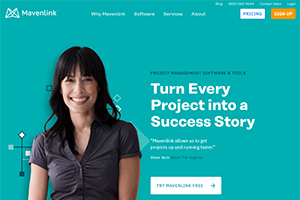 Mavenlink provides professional services automation software over the cloud including a powerful and accessible project management software with Critical Path Method scheduling capabilities.
Mavenlink is easy to get started with and provides project insights at a glance to allow you to schedule and track both primary and dependent tasks.
The software provides real-time task visibility and enables you to create reusable templates for similar projects. These can save you a ton of time and reduce the amount of repetitive work you have to put into project management.
Companies that use Mavenlink include SalesForce, Cornerstone, and Genpact. At the time of writing, you can try Mavenlink for free to see whether it's a good fit for your organization.
Paymo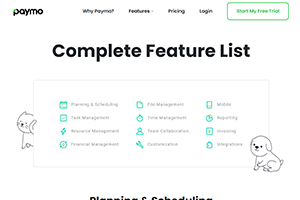 Paymo is a smart and tidy project management solution providing a convenient bird's eye view over tasks. It supports critical path project management and makes scheduling tasks and assigning them an intuitive process. Over 100,000 businesses around the world use it.
With Paymo you can see which team members are overbooked and which under booked and manage schedules in real-time. It also comes with smart booking capabilities such as automatic ghost bookings based on previous data input. These come in handy and can save you time.
A cloud-based solution with app integrations, Paymo has a flexible pricing model based on the number of users. Plans for Small Offices with no user limit are also available.
Microsoft Project 365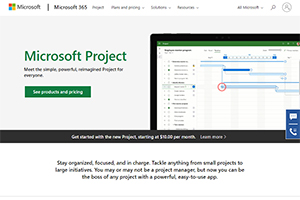 Microsoft Project is a well-known name in the world of project management and the default choice for many businesses around the world. It's now available as part of Microsoft's 365 suite of office tools making its implementation easier than ever.
Microsoft Project has essential critical path analysis and method functionality that can help you plan and schedule your project while optimizing resource use and costs.
It's a beginner-friendly tool and a good all-around choice for all types of projects, from small to large ones. If your team is familiar with the Microsoft Platform, then this tool can be an inspired choice for your organization.
Another advantage of the Microsoft Project software is that you can use it alongside Microsoft Teams for collaborations.
TeamGantt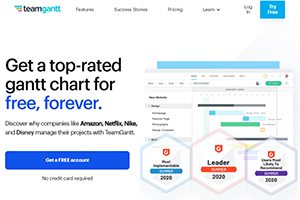 TeamGantt offers a lot more features than Gantt charts. It's a well-rounded project management software with good critical path analysis capabilities. It has a convenient drag and drop scheduling feature that can save you time.
TeamGantt makes managing different workspaces pretty easy and features integrated resource management capabilities that come in handy. It also has good tracking and reporting tools for keeping costs in check.
Companies using TeamGantt include big names like Nike, Amazon, and Netflix.
The Bottom Line
As you can see, there are quite a few CPM software solutions on the market. While most of them offer the same essential features, it's good to test a few to see which one you feel the most comfortable with. Most offer a free trial or free plan so testing them won't come with a price tag.